August 16, 2020

by Andrew G. Watters
March 18, 2022 - I finally managed to get a video of Ben Cannon, aka "Lady Benjamin Cannon of Glencoe." The purported owner of a global telecom company. Living in a storage unit behind a garage and getting evicted. Sad.


Eviction photos/video from 11/3/2021
It wasn't the fraud. It wasn't the grandiose and unrealistic visions. It wasn't the erratic behavior. It wasn't the broken promises. It wasn't even the failure to deliver services I paid for. I'm talking about the last straw in my relationship with this company, which is what put me over the edge into litigation. The last straw was Ben's unauthorized charges of $1,600 on my credit card for services that I had canceled, but which Ben continued charging me for despite owing me around $20,000. It's sad that things have deteriorated to the point of me putting up a web page about my experience, but there is nothing else I can do at this point. This page is an effort to share my experience with the company and its CEO as a hopefully entertaining look at how not to run a telecom company, and as a warning to anyone considering doing business with them.
The Colocation Agreement
I saw a Craigslist ad in 2018 with the amusing title of "Find me colocation clients!" or something similar (I will look back and get the exact title). I had been looking for a datacenter to host my equipment following my general dissatisfaction with the on-premise option at my office. I emailed the person who posted the ad about obtaining colocation services, and this turned out to be Benjamin P.D. Cannon, CEO/owner of 6x7 Networks, LLC. Side note: this is the same Ben Cannon who claims to have founded calguns.net, the popular shooting sports/Second Amendment discussion board (she did not), but in any case was later forced out after allegedly impersonating a police officer. The same Ben Cannon who allegedly contributed to the Ghost Ship fire, which took the lives of 36 people, through unlicensed electrical work (Alameda County case no. RG16843631 and RG18928379, among others. Ben has settled with the Plaintiffs in the lead case for insurance policy limits). The same Ben Cannon who held a contractor license that has been suspended since 2010. The same Ben Cannon who owns a RV park that has been the subject of abatement proceedings in Sonoma County. But I didn't know any of that at the beginning.
What I did do, before I signed the contract in 2019, was visit the 6x7 website, which turned out to be a study in stock photography-- I did not know that at the time. There are pictures of gleaming generators and polished concrete floors, which I believed were representative of 6x7's facilities. See for yourself:
This, of course, turned out not to be the case. Based on my conversations with Ben, she** led me to believe her facility was comparable to a real datacenter, such as the "nearby" 200 Paul Avenue that 6x7 claims to have "massive" connections to (there is a 10 gigabit fiber line supplied by Cogent, which I would not call "massive", but I digress). Compare expectation versus reality:
Expectation
Reality

200 Paul Avenue - "SFR1"
Digital Realty

5030 3rd St. - "SF1"
6x7 Networks, LLC


6x7 website


Actual 6x7 facility

Per Ben's initial email, Datacenter Features:
Diverse carrier and fiber entry
24 X 7 X 365.25 onsite staff, guard, & remote hands
24 X 7 X 365.25 access
UPS and Diesel generator backup power with 24hr fuel onsite,
and unlimited runtime fueling contract
Disaster management protocols.
Full premises video surveillance.
Dual A&B Generators and ATS
Dual A&B distribution all the way to each rack.
True A&B power at every rack.


Actual features as observed:
Diverse carrier and fiber entry
24 X 7 X 365.25 onsite staff, guard, & remote hands
24 X 7 X 365.25 access
UPS and Diesel generator backup power with 24hr fuel onsite,
and unlimited runtime fueling contract
Disaster management protocols.
Full premises video surveillance.
Dual A&B Generators and ATS
Dual A&B distribution all the way to each rack.
True A&B power at every rack.

In summary, the facility was drastically different from what was represented. The "on-site staff" was there sporadically, unless you count Ben, who lived upstairs and never answered her phone (and never returned voicemails). There was no guard, unless you count the part-time "NOC" operator (whose frequent consumption of marijuana on the premises would give anyone pause). I wouldn't trust the remote hands for the same reason. There was not 24x7x365 access...I had to call in advance to make sure someone was there, and even then, the doorbell didn't work so I was texting Ben to have someone unlock the front door, and I had to wait as much as 20 minutes to get in. Once in, the datacenter was either open, or closed up with screws that had to be unscrewed. There appear to be no generators on the site, and my rack had a PDU, but not a UPS. There were definitely not A&B generators (lol), which is also inconsistent with the 2N+1 representations on the 6x7 website. I discovered this when the utility power went out on one occasion and my server crashed-- that is not supposed to happen with "true A&B power," and would never happen with a UPS and backup generator(s) with an ATS (Automatic Transfer Switch). If you look at the above photos of the actual 6x7 facility, you'll see there are two conduits from the utility meter running along the ceiling, but there is only one conduit running from the utility meter to the street. Is that really two separate and independent power lines? I doubt it, and in any case, if both lines are to PG&E, there is no point in having two of the same connections without having backup generators. The "diverse carrier" representation appears untrue because I was provided a Cogent fiber connection and it was unclear who the other carrier may have been (I discovered that it was Cogent when the fiber went out on one occasion, the NOC operator stated it was a Cogent issue, and the Cogent website stated there was an outage; I verified that by looking up the IP address of my server on whois and learning that it was actually part of the Cogent network). There were two entry points for fiber on the property, but it was unclear whether that was the same carrier; "diverse carrier" implies that if one carrier goes down, the other will take over so that connectivity is not lost...that also didn't happen during my outages, which shows another untrue representation. The "full premises surveillance" was a couple of consumer security cameras, not an actual security system. I did not see any cameras in the basement either. As for "disaster management protocols," there were none that I could see. The whole operation nearly ground to a halt during one of Ben's hospital stays, for example, and that prompted Ben to talk about establishing contingency plans, which shows there were none in place.
In those initial conversations via email and phone, Ben told me that she had a datacenter in San Francisco near 200 Paul Avenue. I interpreted "near" 200 Paul Avenue to mean within a couple of blocks or on the same street, and a similar facility. After Ben and I discussed my colocation needs, she sent me a quote. Everything seemed to be in order at this point. The deal seemed amazing and impossible to pass up: 10 gig connectivity and a full cabinet in a datacenter in San Francisco for $800 per month! I signed the papers in 2019.
When I arrived at the "SF1" facility in December 2019, I was shocked. Everything about the facility was wrong. This was a converted light industrial building with ground floor retail, not a datacenter. "SF1" is a mile away from 200 Paul Avenue-- and a block from 3rd and Palou, which appears to be ground zero for drug dealing in the Bayview, with a rotating cast of people who hang out on the street all day. This was not at all "near" 200 Paul Avenue in the sense that Ben used that word. The doorbell didn't even work, so I could not initially get in. When I did get in, it was clear that the facility was drastically different from what was represented. The ground floor was a very messy open office with equipment in the lobby and wire shelving holding computer parts everywhere. The "NOC" (Network Operations Center) was a single desk with a disinterested guy who was on Facebook Messenger, and the whole place reeked of marijuana. Someone's bed was behind a cubicle wall, and there was even a bathtub in another part of the floor. There was no elevator to the basement level; instead, it was a set of rickety, half-broken stairs and I had to carry everything individually downstairs. Downstairs, it was a converted industrial basement. My cabinet was in the center of a partitioned off area with a portable air conditioner running and cables everywhere. Although it was obvious at that point that I had been fooled, I decided to give Ben and 6x7 a chance because I had nowhere else to put the equipment and I wanted to turn it up ASAP.
As I was installing my equipment, I looked through the screen door of the cabinet and saw a female-looking figure walking toward me. She was wearing a full-length black dress, makeup, and a pink wig. I realized this was Ben, who had not previously told me she was in transition. Ben helped out with installing the fiber cable to my firewall/router, and I finished installing the equipment. I went back upstairs and had a pleasant conversation with Ben about her company, her ambitions and goals, and similar matters. At that point, despite the poor quality of the facility, it seemed like things were still promising. Ben did not tell me at that point that she lived upstairs, instead stating that she lived "in San Francisco." I later learned that there had been an unlawful detainer lawsuit at the subject property earlier in 2019, although it is presently unclear what portion of the property that related to. It was settled.
Due to the terrible condition of SF1, my initial plan of hosting subtenants in my cabinet was shot to hell. I was stuck with unmarketable space in a light industrial basement, but I still tried to make the best of it.
There was an unexpected total power loss at one point in May or June 2020, which caused my server to go down. This should not happen because there is supposed to be 2N redundant power with a generator on the roof. Apparently, there is no generator, contrary to Ben's representations and my understanding from the beginning. Satellite imagery from 2020 does not show a generator.
During the course of my colocation arrangement, the connectivity was satisfactory, however, nothing else was. I could not access the facility on demand, and there was no way to get downstairs if the door to the basement was locked, as happened when Ben was in the hospital in June 2020. When I did get downstairs during one of Ben's hospital stays, the basement was extremely warm and potentially damaging to my equipment-- a $25,000 server. Although it appears now that it was not damaged, this was a source of worry that I did not need. At this point, someone threw a brick through a front window and there was a large hole and open space until boards went up. The facility was never secure, and this was another constant worry for me.
The Undelivered Fiber
In January 2020, I moved my office to a new space in San Mateo. The space had no internet, and AT&T had initially missed our installation appointment, which really irritated me since I waited all day for them. 6x7 offers fiber internet. So I asked Ben about servicing my office with gigabit fiber internet for the same price as AT&T. Ben "sharpened her pencils" on the price and was able to quote me symmetric gigabit fiber with a backup microwave antenna for $500 per month, with $5,000 up front for construction costs and an install within 45 days. I paid the $5,000. For the next six months, I regularly followed up with Ben, who blamed her failure to deliver the services on the City of San Mateo's permitting process. It's now August 2020 and the service was never installed-- not even the microwave backup antenna, which only required placing a book-sized antenna on the roof and some outside wiring. I finally gave up and called AT&T in early August, and AT&T had my fiber installed within about a week of placing the order. I had been using a LTE modem and paying overage charges on data for seven months! Completely unacceptable for a telecom company.
Chief Legal Officer
In late May 2020, Ben was in need of legal services. On June 1, 2020, Ben offered to hire me in a capacity to be determined. I thought about it and proposed that I join 6x7 as Chief Legal Officer part-time to start, at a rate of $250,000 per year ($125,000 per year until the company grossed at least $10 million). Although this deferral is illegal, I agreed to defer my first paycheck to August 1, 2020 in order to help out the company. In other words, I would be earning just over $10,000 per month starting June 1, 2020, but I would be paid the first two months' salary on August 1, 2020. Ben accepted the offer enthusiastically, and so we had an employment contract. I worked my butt off for Ben for a month and a half, including extensive personal matters involving Ben's poor health situation and multiple hospitalizations. During this time, I discovered that Ben was not only not paying multiple employees, but employees were advancing their own personal funds to keep the business operating! I feel really bad for Kar Dhillon, Chief Business Officer, who (on top of not getting paid properly) advanced the cost of putting plywood boards over the front of the building. Although Kar was later reimbursed, that is not the point; Ben was acting like it was this grand gesture to reimburse Kar when Kar should not have had to advance personal funds in the first place. Kar later told me via email that his family poured $20,000 into 6x7 in order to keep the company afloat! Kar definitely drank the Kool-Aid, because he was talking about "investing" in 6x7 through his effort when Ben is not offering any stock options and Kar is not going to end up an owner of the company. In any case, when Ben returned from the hospital and, according to her, withdrew from the medications they put her on, she called me on July 12, 2020. Ben said she would be unable to fulfill her promises to me in our contract, and it was unclear when she would be able to do so. She wanted me to keep working without getting paid. I did not agree to that, and I suspended my work for 6x7 at that point. I didn't formally resign until July 29, 2020, which was when I removed my equipment from SF1 and gave notice of rescission of all my contracts. In the course of exchanging emails and calls with Ben in mid-July, it became obvious that Ben could not recall what promises she had made to other employees, and it turns out that the other 20 or so employees were not getting paid (or at least fully paid) either. It was at this point that Ben started talking about drilling a tunnel under San Francisco Bay using the Boring Company to get a vehicle-sized tunnel from SF1 to a fiber landing in Oakland. I asked Ben when that would happen, and Ben said she had $7 million pledged so far but was unsure of the timeline. Lol. Over the following two weeks, I thought about the situation a lot and ultimately decided to cut my losses.
In the course of working for the company, I obtained a sense of the scale of Ben's ambitions. They are mind-boggling. In addition to her basic telecom business, Ben wants to do "6x7 Maritime," "6x7 Mobile," "6x7 Nairobi," plus have a fleet of cable-laying ships/yachts that travel around the world visiting various ports of call. To say that Ben's vision is grandiose is an understatement. The problem is: Ben is simply unable to accomplish these lofty goals with her current resources. What Ben is good at is getting people to give more than they receive back, which is a terrible quality in a person. In addition, Ben seems to have this delusional belief that she is more important than she actually is; Ben stated at one point that she needs a "President's Daily Brief" and was constantly harping on employees not to bother her with routine inquiries or things that needed to be explained. I attended many nearly daily conference calls during which nothing was accomplished except giving me the strong sense that Ben is an incompetent manager and Kar is an enabler. To add to this are Ben's random, alarming comments about such plans as establishing her own railroad in order to enable her and her employees to become a private police force (sounds like this lawsuit filed by Ben may have been frivolous, and Ben having now been twice arrested for and once charged with impersonating a police officer*** is at the very least incredibly unlucky). Ben, as the founder of calguns.net, is a shooting sports enthusiast and relishes the opportunity to exercise her Second Amendment rights. However, her health situation causes me concern in that area.
I also had a sales representative contract with 6x7, and part of that job was essentially vouching for the company in the sale of its services. I sent out a number of packets or inquiries to prospective customers who would have been great for the company. Unfortunately, the company screwed up those leads on top of being unable to deliver. Example: with one lead, a guy who owns about 25 buildings, a 6x7 executive assistant sent a very blunt email to him that probably caused him to think he was being told what to do by a bossy secretary-- big mistake with a high net worth individual. The conversation did not progress beyond the initial email. The emails from 6x7 personnel to leads that I saw were generally inappropriate because they did not account for, let alone explain, why 6x7 would be the best choice for telecom services in a crowded marketplace and actually benefit the customer. So much of the communications from 6x7 personnel merely assumed that 6x7 was awesome, which it is not, and the tone of the messages was such that everyone at 6x7 believed they did not have to explain the actual mechanism of customers realizing benefits from the company's services. Although 6x7 has access to a large fiber network, it was unclear even as a (brief) insider who actually owns the fiber network. 6x7 itself is serviced by Cogent at the SF1 facility, so it would make sense if 6x7 merely purchases access to Cogent's fiber network. Essentially, 6x7 is able to compete on price, but not quality of service. And there is no public phone number if the service goes down, as I found out when I had to resort to emailing the "NOC" about outages.
The Last Straw
I wrote this email on July 29, 2020:

Hi Ben,

Thanks for your call this morning 7/29/2020.  I understand you are taking some well-deserved time off and resting so that you can clear your head.  You also apologized for being rude during our last series of communications, and I appreciate that.

I sincerely hope that you feel better soon and that you continue to improve with your health.  That said, I have given your situation a lot of thought.  The simple fact is: due to your erratic behavior and unreliable health, I cannot trust 6x7 as my telecom provider-- especially not for the cloud-type 100% uptime services that I am very close to providing to several customers of my law practice management system.  One example is that the $25,000 computer that I had in SF1 until today was always on my mind as a risk due to the vandalism that the property has experienced lately (see attached photo from today). You still have boarded-up windows after nearly a month since the window was broken, and they are covered with graffiti.  That is, of course, not the only concern.  The facility is completely insecure and also lacks any of the amenities expected in a conventional datacenter, which is again not the point.

In any case, I am giving you notice under our contracts that I am rescinding all of our agreements on all available statutory grounds.  I have removed all of my equipment from your SF1 facility and I will be making other arrangements for my telecom needs moving forward.

Regarding each contract specifically:

1.  As to the colocation agreement, the facility you have (SF1) is inconsistent with the representations made on your website as to the quality of the facility, as well as your sales-related representations before I signed the contract.  I thought I was getting into a real datacenter of the caliber shown on your website, and this was always your representation.  But "SF1" turned out to be a converted basement in a random light industrial building, in which you live upstairs. Obviously I noticed the poor quality of the facility on day one, but I had nowhere else to put the equipment, so I thought I would give you a chance.  Unfortunately, the facility has not met my expectations, and in no way can it be considered a datacenter, on top of the other issues I experienced with you.

2.  As to the 118 South Blvd. fiber internet, you never delivered the service and it's been almost seven months.  I don't appreciate having paid $5,000 NRC for an install within 30 days and never getting the service.  I need my $5,000 back.

3.  As to the Woodlake complex, you cannot possibly deliver 10 gig connectivity for $199/mo., and Kar indicated there was a mistake on the quote anyway regarding the NRC. This is unfortunate because when I last checked, the board was considering the proposal.

4.  Regarding my sales representative agreement, I have no real desire to market your services now that I have seen behind the curtain.  Since I made no sales (unless Woodlake pans out), there is no harm to either side.

5.  Regarding my employment contract, I hereby resign and demand my final paycheck of $14,383.56 within 24 hours.  This is 42 days of service (June 1 to July 12, 2020 x $342.47 per day ($125,000 per year / 365).  I am mailing you back my key fob.

I also spent money for Lauren and Lizbeth to do work for you.  I am willing to waive this approximately $1,300.00 if I get paid back on #2 and #5.

By my calculation, I am owed $19,383.56 in wages and unused NRC.  I am not asking for anything beyond what we agreed to at this time.  Please make the necessary arrangements immediately, or I will respectfully seek redress in the courts and/or with the Labor Commissioner, because I doubt I am ever going to get paid voluntarily. Obviously, if I have to go to court, I will seek all available remedies as well as attorney fees.

I would like to stress that this is not personal in any way.  You are trying hard with what you have, and that's admirable.  Unfortunately, what you have is not competitive with real datacenter operators such as Digital Realty, which has given me a very reasonable quote on a cabinet at 200 Paul Avenue.  I anticipate giving AT&T another opportunity to install my office fiber as well.  Bottom line, you had a full and fair opportunity to deliver what we agreed, and you didn't deliver.  Nor did you honor our employment agreement.  That is enough for me to cut my losses.

I sincerely wish you the best, however, this will be the end of our business relationship until such time as your health improves and/or 6x7 becomes a more reliable provider of its services.

Best,

Andrew

There was no response, and as of this writing, there is still no response. Despite making it clear that I was canceling all the services due to fraud, mistake, etc., and despite Ben owing me nearly $20,000, Ben ran my American Express card for $1,600 on August 9-10, 2020 (two charges of $800 each). I never authorized the charges and I disputed them with American Express. As of this writing, the dispute has been resolved in my favor and the charges reversed.
Behind the Curtain
I don't understand how this clown show is possible. A person should not make promises she knows she cannot fulfill, and can barely even remember making. An employer cannot treat employees this way-- the things Ben is doing are illegal and the business could get shut down by the State or Federal employment authorities at any moment. In all likelihood, Ben's company will fail not through a lack of proper service offerings, but because of its erratic and unreliable CEO and its failure to deliver services to customers. Customers have signed contracts and paid NRC (non-recurring charges) to get services turned up, and 6x7 owes those customers service turn-ups. I doubt the company is going to survive, and in my opinion it's going to end badly.
I cannot really trace the dysfunction at 6x7 to any one cause. Ben does freely state that she is autistic, however, I should not infer that her autism is the cause of her bad behavior; as pointed out by someone who emailed me in response to this page, there are plenty of autistic people who do not behave badly like Ben. Either way, had I known in 2018 any of the important things I know now, I would never have responded to that initial Craigslist ad. I would have gone with a real datacenter operator such as Digital Realty, which recently quoted me a very reasonable price for a cabinet at 200 Paul Avenue. At least that way, I would not be out $20,000 and a month and a half of my life, plus the incredible stress of being pulled in so many directions by an erratic and ultimately unreliable individual. To think that Ben considered me a close friend is laughable...friends don't defraud each other. I hope whoever reads this page in its entirety thinks twice about doing business with Ben or 6x7.
* Ben freely states that she is autistic.
** Ben identifies as female and is in transition.
*** Ben was charged with impersonating a police officer in 1999, (Sonoma County no. TCR-344115-1). The charge appears to have been dismissed as part of a plea bargain, because Ben pled no contest to giving a false vehicle registration and the other charges were dismissed. Side note: there appears to be an active bench warrant for Ben in Sonoma County case no. SCR-717747-1 filed in 2018 arising out of unlawful timber harvesting and two counts of contempt. Ben's other criminal cases in Sonoma County have all been dismissed-- at least one case (two counts of theft in 2006) through volunteer work, with multiple bench warrants for her failures to appear (Sonoma County case no. SCR-487556-1). I don't know what her situation is in San Francisco due to the unavailability of criminal cases online.
The Lawsuit
The complaint that I filed at court, case no. CGC-20-586215 in San Francisco. I have since learned that 6x7 recently sued a customer for over two million dollars, claiming that the customer owed the Total Contract Value as damages. However, like me, that customer also signed a contract that was longer than 6x7's lease at its facility in San Francisco. Therefore, even assuming that the customer breached the contract and was not excused by Ben's and 6x7's fraud, 6x7 is claiming an extra two or three years of damages beyond what they would be entitled to under the most generous possible reading of the contracts. Sad. Case no. CGC-19-581498. Side note: Ben sold that customer a "hardened datacenter and content delivery solution." Ben's office is not in any way a "hardened" datacenter, certainly not with plywood boards over the windows. A copy of the complaint makes for interesting reading. Why didn't I get the same SLA as Sudo did? Why did Sudo get charged drastically different amounts of MRC? I guess we'll find out.
Update 10/16/2020: Ben and 6x7 have defaulted in the lawsuit, which means I will win and get a judgment against them. Lol.
Side note: in case it's not obvious, I have known Ben for more than two years primarily as a customer; for the brief period (a month and a half) that I was Chief Legal Officer, I represented the LLC, not Ben personally, although a couple of ancillary matters affecting the company came up in which I may have stated I was personal counsel on those matters for the purposes of convenience. For example, when dealing with American Contractors Indemnity Co. on Ben's unsatisfied civil judgment, I worked with ACIC to resolve that with a payment plan because it was necessary to further the interests of the company. See, e.g., Rule 1.13. I also communicated with the Contractor State Licensing Board in order to attempt to revive Ben's license so that 6x7 could pursue business opportunities that might require a license. A lawyer who is an in-house attorney represents the entity, not the individuals, but may nevertheless freely handle ancillary legal matters that further the interests of the company. I have not revealed any privileged matter here, such as advice given to the company, memos and reports about company legal issues, or things I may have been told that were actually secret. An individual corporate officer may not hide behind a claim of privilege in order to silence someone who represented a company, though I of course expect Ben to try that here instead of facing the music. She also might claim that the channel sales NDA somehow applies, however, I have no record in my outgoing email of signing that, nor do I recall doing so. In any case, a sales NDA covers things like customer lists and proprietary pricing information, none of which is even disclosed here except to the most minimal extent possible and as otherwise permitted by law.
Update 1/10/2021: I've been subpoenaed for documents in the Sudo Security case, and the interactions have been colorful so far. To be continued.
Update 2/13/2021: Ben/6x7 filed a motion to quash the subpoena from Sudo, which includes false testimony from Ben, as well as numerous untruths in terms of legal argument. For example, Ben testified in her declaration that "almost immediately" after "approaching" 6x7 in April 2018, I started rendering legal services and did so for over two years! That is completely false. I started the legal relationship in June 2020 and ended it in July 2020 due to Ben's fraud, which was 42 days out of the two years I knew Ben as a customer or potential customer (or sales rep). Accordingly, I am also accusing Ben of perjury. Basically, they are trying really hard to suppress documents that would result in them losing the case. Here is the joke of a motion, in which the highlight is Ben's perjured declaration. The opposition papers are not yet available. Meanwhile, check out my declaration, which solely explains the legal situation and responds to that aspect of Ben's false testimony. The lawyers involved in this for 6x7, especially Jessica Beeler, Esq., should be ashamed of themselves; there's doing your job, and there's enabling a bad actor. This is enabling a bad actor.
Update 4/5/2021: I've been hired to represent another victim/customer of 6x7 called EDJX. Read our complaint recently filed in Federal court.
Update 9/5/2021: 6x7 and Ben defaulted in the EDJX case, and we are in the process of obtaining a default judgment. In my personal case, Ben managed to hire a lawyer and they were successful in setting aside her default, however, they never filed a response to the complaint. This irritates me because I have to go to the time and expense of filing a motion to re-enter default.
Update 11/3/2021: Surprise! Today was the day for 6x7's eviction from their San Francisco location, pursuant to a judgment issued in favor of the property owner by San Francisco County Superior Court. What a crazy experience...Sheriffs and everything. It turns out Ben was illegally tapping the power line and running all the gear through an unmetered connection...no wonder Ben didn't want PG&E to look at this location. Here is the illegal receptacle after being unplugged: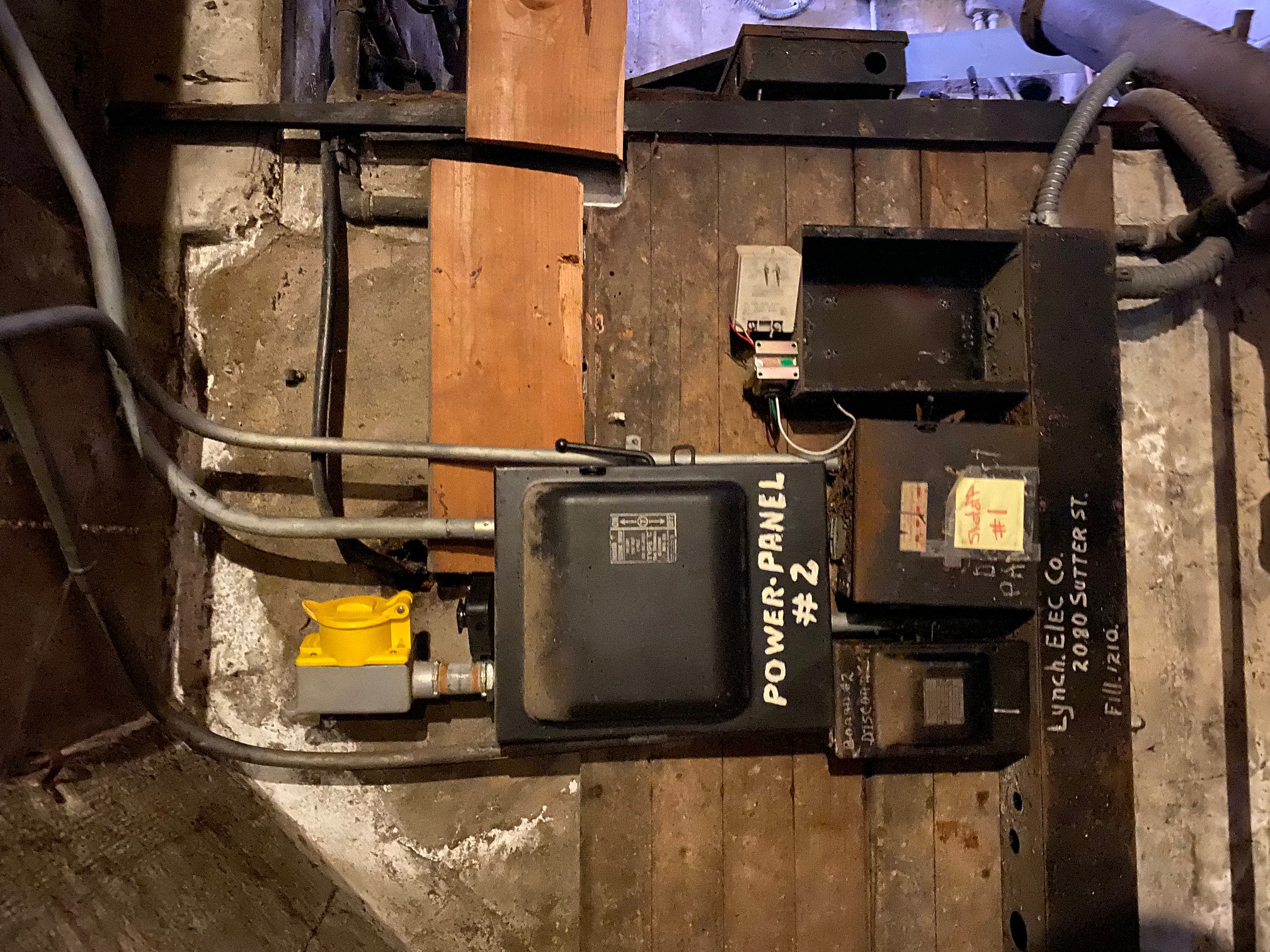 The couple of videos I took do not do this justice. The property owner and I high-fived each other when the crew pulled out the power cable from the illegal tap, shutting down all of the equipment. So yeah, there was no A/B power or generator (lol). What a horrible thing for Ben to do to her customers. The funniest moment was Ben calling into the Ring doorbell from an unknown location to claim that this was illegal-- shortly before the crew ripped off the Ring doorbell. I feel bad for Chris, the employee who was on-site and had no clue what was happening...he was out on the street in his bare feet while the Sheriff's deputies went through the building. Check out these insane videos of the basement and ground floor, respectively: Basement / Ground floor
Ben is finished, I hope. The gear should be sold to satisfy the property owner's judgment...I might want one of those Cisco Nexus 7000 switches myself!
Update 3/4/2022: "Lady Benjamin Cannon" aka Ben Cannon just doesn't go away. She posted an absolutely false and defamatory change.org petition calling for the property owner's and my arrest on burglary charges. What a joke. Ben belongs behind bars where she can't defraud any more people. My civil trial with Ben is set for 3/28/2022 in San Francisco. Meanwhile, I hear that Ben has not learned her lesson and is still scamming people on a global scale. Sad.
Update 3/23/2022: major update coming soon regarding Ben scamming the Ukrainian government in connection with the Ukraine war. Shameful!
Update 7/14/2022: The 6x7 Networks website and Ben's email have gone offline without a trace, and her attorneys are withdrawing. Looks like I won. Further updates coming soon...Ben removed my civil case against her to Federal court, and I got it remanded to San Francisco County. However, that delayed things a couple more months...sad.
Update 11/20/2022: well, Ben pissed me off enough that I decided to come back and complete this page with a professional re-design. Her latest antic is filing an insane civil rights case in Federal court against the San Francisco Police Department and about 15 other defendants, including myself. I responded with a motion for guardian ad litem and a motion for a more definite statement, since there is barely anything in the complaint about me. We'll see what happens. Case no. CV22-6778-TSH in the Northern District of California.
Update 4/12/2023: I just finished my one and a half-day civil trial against Lady Ben in San Francisco Superior Court, where fellow Hall of Shame member Zheng Liu was her second-chair at the trial. First chair trial attorney was a media-hungry, attention-seeking lawyer from San Diego named Cris Armenta, who specializes in making a scene and throwing barbs to get people to react. This is like when Batman's villains team up in his "rogues' gallery." In any case, the briefing will go in once the transcript is available. This trial marks the first time I've been called a Nazi, which of course was from Lady Ben. I have real concerns about Lady Ben's mental state following her unhinged performance while testifying (she volunteered during her own attorney's questioning that in mid-2020 I asked her to check herself into a mental hospital, which is true), but that is for another day. I will be providing a major update on some other matters, including the recent case of Benicia Harbor Corp. v. Cannon, which resulted in the seizure of her purported vessel that is illegally docked in Benicia Harbor. Also, Lady Ben's Federal case against the San Francisco Police Department and myself was dismissed.