The IBM Model M Keyboard
A satisfying, sublime, and exceptional typing experience.
Introduction
As shown in the video, in Spring 2017 I purchased a sealed box of two sealed, new-in-box Model M's from the guy who runs Model F Keyboards. The product was exactly as advertised and I am absolutely delighted with them. I opened one keyboard for my daily use and left one sealed in its box for future use.
Made in USA
Aside from a Unicomp replica, this is probably the only keyboard you can still get that is Made in USA. The biggest difference between the IBM Model M and the Unicomp replicas is quality; the Unicomp keyboards have a gap in the middle of the case under the space bar that flexes, while the IBM version does not seem to. The actual IBM keyboard is heftier and seems to use thicker plastic for the case, so it overall just looks more sturdy and better. I have both, so I think I'm qualified to make this judgment.
How Does It Type?
It types perfectly. Crisp key action, the sound is loud but not too loud, and it makes a statement. It's not too annoying for office use like the Model F probably is.
Looks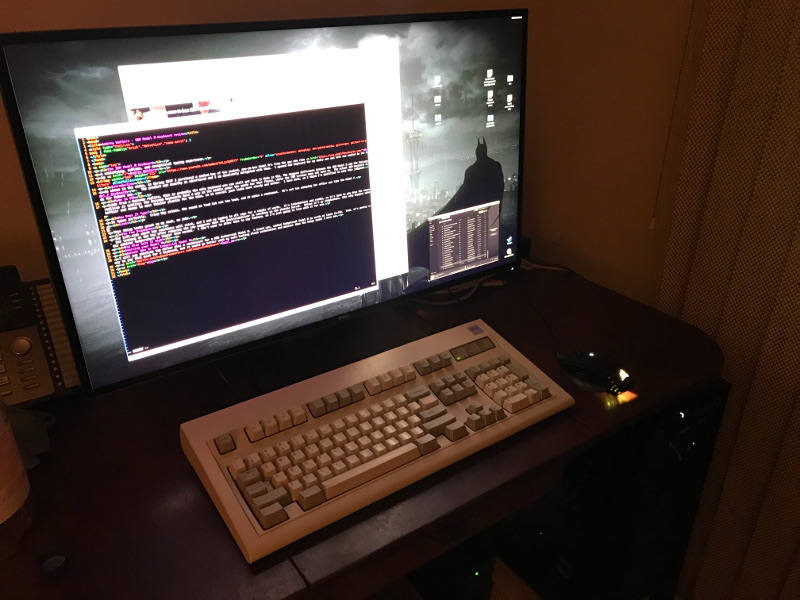 This thing looks great on my desk, no joke. It's a very pleasant light beige.
The Few Drawbacks
The left-side shift key sometimes will stick, and I end up typing in all caps for a couple of words. It's intermittent and random, so it's hard to pin down the cause. But looking at the key after removing the cap suggests that the post/stabilizer is catching on the plastic barrel. Unless it's my imagination, this only happens when the ambient temperature is higher than normal. I don't want to alter this in any fashion, so I'm just going to live with it for now.
Big Blue Gets It Right
This keyboard is a relic of a prior age, when keyboards and computers were made primarily for the business user instead of the consumer. The Model M so far surpasses the keyboards of today that it should be embarrassing for other manufacturers.
Sourcing your Model M
The guy who runs Model F Keyboards is a serious collector and he occasionally has new Model M's for sale. Otherwise, Clicky Keyboards has a very large selection of used and refurbished units.
Wanted: New In Box Industrial Model M
I will pay absolute top dollar plus a commission for a NIB Industrial Model M, which has a gray case instead of beige. A brand new, sealed Industrial Model M is worth at least $1,000. Yeah, it's pretty crazy to pay that much for a keyboard, but it would go better with my evil-looking black workstation and monitor than the beige model I have now.
November 2, 2018